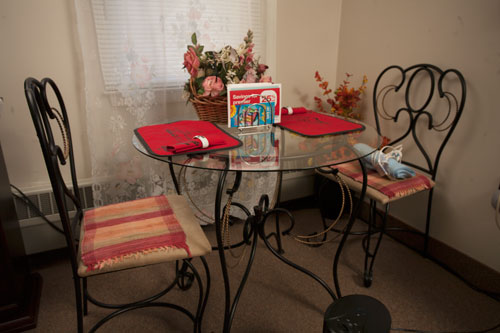 The Hazleton Housing Authority provides clean, safe, affordable, well-maintained housing for the residents of our community and help them improve the quality of their lives by supporting opportunities for their economic independence.
Our priorities are to:
Provide, preserve and improve our housing stock through a strong maintenance and modernization program.
Serve our elderly and family residents with high-quality housing that is clean, safe and affordable.
Assist our residents and clients by providing access to opportunities for counseling, further education, vocational training and increased chances to reach self-sufficiency and home ownership.
Partner with city and community agencies to better work toward the overall development and improvement of our city.
We offer houses for low-income families featuring a community room, security cameras, 24-hour maintenance, washer/dryer hook up and all utilities except phone and television. Our high-rise apartments for the elderly and disabled provide a community room, laundry area, security entrance, emergency pull cords in all bathrooms and 24-hour maintenance.
The Hazleton Housing Authority infuses a substantial amount of money into the City of Hazleton every year and, as a result, has been a contributing factor in the city's health and welfare since our inception.
The Hazleton Housing Authority directly contributes approximately $2 million toward our local economy in a variety of ways, including $30,000 to $40,000 yearly to the City of Hazleton in lieu of taxes. This is not accounting for the additional millions of dollars that are realized by the indirect, peripheral economics to our area.
We provide hundreds of thousands of dollars in employee payroll and Section 8 Housing Choice Voucher Program payments to landlords. Our United States Department of Housing and Urban Development (HUD) subsidy enables us to purchase necessary equipment and supplies from various local businesses. Our annual Capital Fund Program affords the renovations and maintenance to our existing real estate. Many service contracts are awarded annually to local vendors, architects, engineers and general building contractors.
The Hazleton Housing Authority applies for a number of grants every year. Several years ago, we received a Crime and Drug Prevention grant that contributed nearly $200,000 in income toward the wages of two additional city police officers over the three-year life span of the grant. We've also applied for HUD Emergency Safety and Security funding to help pay to install external surveillance cameras, additional security doors and deadbolt locks at authority properties.
The Hazleton Housing Authority values courtesy, respect, trust, unity, cooperation, responsibility and integrity. Our staff will continue its efforts to improve the lives of our residents and remain an asset to the City of Hazleton by maintaining a more constructive, progressive, sensitive and caring Housing Authority.